Tuesday, August 27th, 2013
---
10:59 pm
- Bad idea:
logging into LJ for the first time in almost four and a half years and thinking you are going to be QUICK about it. Good night old friends!
10:49 pm
- LJ? Really, LJ?!?!
So everyone is still just kickin' it over here like it's 2003!!!! Who knew?! Maybe I'll be seeing you around!
Monday, April 20th, 2009
---
10:27 am
- still reeling...
Tuesday, March 24th, 2009
---
9:18 am
- Coffee fail
In case you've abandoned Facebook, you missed the big news that I dumped my venti iced americano all over the office's incoming mail. I am such a walking disaster. I need a sippy cup. I actually wasn't even walking, just standing there. No clue how it happened. It took forever to clean up and I would run to find some paper towels and peole would come across it and think I just abandonded the clean up project. Le sigh. Now see, I can't express all the intricate nuances of this thrill-a-minute drama on the facebook, right?

Yay Spring! Its been such perfect scooter weather lately! I've taken it to work every day for the past week and a half.

MFK (my friend Karen) gets into town on Thursday afternoon! Woot woot! The only definites are PaulBlartMallCop at 1:35 on Friday and the Celtics game that night - the rest is just whatever. Yay to a BFF that loves terrible movies. I think we'll have to do an early lunch with cocktails to maximize our viewing pleasure. I can't imagine anyone else will be in the theater at 1:35 on a Friday to see a movie that's been out for what, a year now? Excited!

Oh, and the Forty Fives, previously referred to as the God Damned Forty Fives (since it seems they used to play, like, every fifteen minutes or so, and every show was billed as their last), play at The Star Bar on Friday night with the Woggles and Saturday headlining at the Highland Inn Ballroom. Between the two, I think we will hit the Saturday night show, as its a way more interesting/change of pace venue. But being realistic, I can see us ending up at both.

Again, anything that isn't the Celtics or PaulBlart, is a big ol' maybe.

Okay, I need to plug into to my ipod and get some work done. I start a four month detail into a new position on Monday, so need to get my old work cleared out.

Atlanta people, maybe we will see you out and about this weekendo!
xo
g&t
Thursday, March 19th, 2009
---
10:29 am
- Live who?
Oh, LiveJOURNAL!!! I remember that guy! I love that guy. I need to see what that guy is up to, I MEEES HEEEM!

Hi all! What's up? Not much here!

Spring is got damn springing, praise be, right? Scooter weather! Bob got a steal of a deal when ATL Scooters was going out of business, so we have been buzzing around lately. So that's fun.

Work has the potential to be getting better. I have a four month detail into a promotion starting a week from Monday. A tad more money, but a MUCH better, more interesting, less stressful position. So that's good.

Getting SO EXCITED for jazzfest! When I first met The Captain, aka Bob, the Bob, my husband, he was all geared up for his annual trip to New Orleans for Jazzfest. I was like, "Sounds lame." I don't know what I pictured. I guess I pictured a JAZZ FESTIVAL, like, lots of KennyG folk and what not? It is seriously the most fun, amazing, fun, fun, fun thing like ever. And we're going for BOTH weekend this year! ELEVEN NIGHTS at "the funkiest little hotel in the quarter", on Frenchman Street. I can't even wrap my mind around it yet. CANNOT. The idea is supposed to be that we are really blowing it out this year, so that next year, maybe we will try out another festival, like Austin City Limits or SXSW. Does CMJ still happen? Yeah. So that's exciting.

No more derby for me. I'm retired and I mean it. I'm an active retiree and still help out with a practice or something here and there, but that's about it. I miss my SHOCKS madly truly and deeply but see them on the regular. So that's good.

There's got to be a zillion other things going on, but them's the basics!

I miss all y'all!

Daley and Rob - SO great to see you last night! You left your gin behind!!!!

Genene - good to cross paths on Friday! You look fabu!

Cland - I don't even think I noticed your honkyness the weekend before last! But thanks for beeping!!!

xo
g&t

ps
New facebook=lame.
Saturday, November 1st, 2008
---
1:17 am
- Anniversary Gift - Meine Tag!
Tuesday, September 30th, 2008
---
9:28 am
- Holy lord!
I am not even all the way through my first listen of the "new" Raconteurs record! Yowza!

Now that derby is OVER (I am retired! For reals, this time!), I plan to get reconnected with MUSIC!!! I have been so far out of the loop for so long - just not having the time to be in front of the computer to download stuff onto the ipod, really.

I also dowloaded the "new" Fratellis record to get a little familiar for that show tonight, but just found out it was canceled due to a death in the famil - the whole rest of the tour. Sad. Poor boys. Must be someone very close to pull the plug completely.

The Black Keys are Thursday night which would have been an amazing Trifecta, BUT, we are taking a last minute anniversary trip to New Orleans have multiple shows lined up for every night! Woot NOLA! Oh! Parks and Jenn...Molly's Iced Coffe are our latest MUST HAVE and we are spreading the word to everyone we drag down there with us! How did we go so long without knowing of them?!?! The Golden Lantern was an even trade, in my opinion!

Okay, hope all you kiddies are well! Though I've had no time to post, I've been following you all closely!

XO
G&T
The Skater Formerly Known as Slam Adams
Tuesday, July 1st, 2008
---
3:04 pm
- Contractual obligations
Oh GAWD I hate trying to find contractors!

Electricians, plumbers, HVAC, whatevs.

It's so time consuming to weed through Kudzu reviews and call places and leave messages and wait and hope that they call you back and set up a time to meet them and wait and hope that they remember.

I've had good luck with a few, but gah, it makes me want a personal assistant OR be a "stay at home ______".

I've called six different people from kudzu today. One actually met me at home at lunchtime, one is coming Saturday morning between 8am and 9am (!), another should be getting back to me within three days, and the others I'm waiting to hear from. I guess its kind of a wierd vacationny week, too, so I won't get to wound up about it.

The guy who came today has excellent kudzu reviews and is romanian. He pulled up on a ninja-esque motorcycle and seems sort of swarthy. I am wondering if our job will be too "small potatoes" for him. He was like, "This house is old". Yeah, it is. I got the "Why on earth would anyone live here?" vibe from him, which I've gotten from contractors before, but I forget that I have the identical knee jerk reaction when I see all the McMansions in the McBurbs that are a dime a dozen around here, so I can't take it personally.

We want to extend our deck so that it will come to our dining room wall/window and then install french doors to access the deck and give more light to the dining room space. We want a bay window in the liviing room and need the small bathroom drywalled/painted/tiled. I am super curious to see what kind of estimates we get as this is kind of our first foray into renovations.

Bore. Boring. Bored.
Friday, June 27th, 2008
---
11:11 am
- She lives!
Oh, hai!

I'm the worst.

Super busy with derby and wedded bliss and what not.

Something every weekend....either company or dashing off somewhere.

Last weekend I was in the greater Philly area for derby, but stayed with the fam in Yardley, had a nice dinner in New Hope and went down to the Jersey Shore for a rush job beach trip to Cape May! Exhausting!

This weekend we are off to Biloxi for an evening of wagering, then to NOLA tomorrow for a show. My latest obsession, Dax Riggs. Do you know him? A very easy, lazy, but appropriate comparison would be Jack White. His stuff is blues oriented (I've seen the term "blooze" thrown about, but don't love it), but has a lot of Bowie/glam/rock stuff going on too.

Though I never post, I've got my eye on all of you! Those that cross the ocean for holy matrimony! Those that bow before the Kross! Those that NEVER POST! What's up with that?! I know, I know....pot, kettle, black, blah, blah, blah.

This is my boy Dax. He's got a crazy NOSE! I love it!

Love all y'all.
x
G&T


Wednesday, January 30th, 2008
---
1:54 pm
- Wedding Singer
Our friend, Eric Lindell, who played our wedding, is playing at the Star Bar tomorrow night.

www.ericlindellband.com

Blue eyed soul, for sure. And easy on the eyes, in a scruffed-out way. Mercy!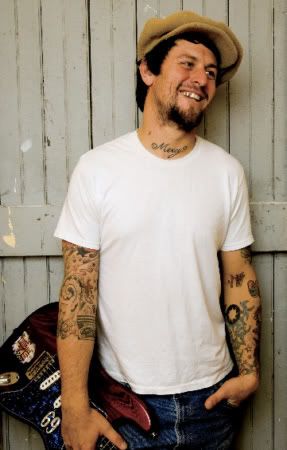 Thursday, January 3rd, 2008
---
12:34 am
- The Forty Fives, Star Bar, New Year's Eve
12:32 am
- Champagne party punch!
12:23 am
1 - What did you do in 2007 that you'd never done before?
Got hitched! And traveled out of state to PARTICIPATE in a sporting event!

2 - Did you keep your new year's resolutions, and will you make more for next year?
I can't even remember. So bad.
I think I just try to "be better", which I think I did and will continue to do.

3 - Did someone close to you give birth?
My cousin Leslie just had a baby! And my sister-in-law just had another girl - Maisie!

4 - Did anyone close to you die?
No, praise be.

5 - What countries did you visit?
British Virgin Islands

6 - What would you like to have in 2008 that you lacked in 2007?
Some god damned control.

7 - What date from 2007 will remain etched upon your memory, and why?
October 6, 2007 - wedding day.

8 - What was your biggest achievement(s) of the year?
This is getting repetative - getting married. But other than getting married, uhm, god, did I do anything else? Did I need to?
Oh! I went back to the dentist after a TEN YEAR hiatus!
Oh! And winning the Championship at derby! Worst to first, baby!

9 - What was your biggest failure(s)?
I still haven't gotten my thank you notes out.

10 - Did you suffer illness or injury?
No.

11 - What was the best thing you bought?
Sonicare toothbrush!

12 - Whose behavior merited celebration?
Bob was a trooper of a groom, for real.
The Toxic Shocks in general, are a god damned army.

13 - Whose behavior made you appalled and depressed?
Michael Vick and Britney

14 - Where did most of your money go?
Wedding stuff.

15 - What did you get really, really, really excited about?
Red Sox baseball!!!

16 - What song(s) will always remind you of 2007?
God, I've become so bad about music. I probably listed to the White Stripes more than anything else.

17 - Compared to this time last year, are you
i. happier or sadder? happier, for sure
ii. thinner or fatter? probably exactly the same, but need to get smaller
iii. richer or poorer? I have some debt because of credit cards, but, with combined incomes, I'm in better shape

18 - What do you wish you'd done more of?
Exercising.

19 - What do you wish you'd done less of?
Drinking.

20 - How will you be spending Christmas?
Oh this is old, I guess...I was laying in a hammock in the Caribbean, reading the Motley Crue book, The Dirt.

21 - How will you be spending New Year's?:
It was the usual - Star Bar and party pants.

22 - Did you fall in love in 2007?
Fell deeper, I guess.

23 - How many one-night stands?
Ha! None, thanks!

24 - What was your favorite TV program?
Top Chef

25 - Do you hate anyone now that you didn't hate this time last year?
I probably didn't hate Michael Vick last year. And I do this year. Oh, and there's a girl who talked shit about me, but thankfully, people considered the source.

26 - What was the best book you read?
I hardly read at all with Derby and Wedding planning. The Dirt, the Motley Crue bio was great, though. So that.

27 - What was your greatest musical discovery?
God, I hate myself - did I really not find any new music?!?! I bought the Hold Steady and liked it. Locally, I liked the Selmanaires (hardly a discovery) and Warm in the Wake. A band called The Booze played New Years Eve, and I'll look into them more.

28 - What did you want and get?
Married. And victory.

29 - What did you want and not get?
A new career

30 - Favorite film of this year?
Lars and the Real Girl. Thank god I saw something besides Hot Rod!

31 - What did you do on your birthday, and how old were you?

Turned 37. Bob took me and the Shocks to dinner at the Earl after team practice. Tres romantique!

32 - What one thing would have made your year immeasurably more satisfying?
Being more organized.

33 - How would you describe your personal fashion concept in 2007?
I don't think jeans and a tshirt are really much of a concept.

34 - What kept you sane?
My dogs.

35 - Which celebrity/public figure did you fancy the most?
Jon Stewart is pretty classic, I guess.

36 - What political issue stirred you the most?
Trying to figure out the lesser of the evils.

37 - Who do you miss?
My parents and close friends are really far away - Karen, Shannon, JimKing.

38 - Who was the best new person you met?
Shannon and Delaney are great. Getting close to Notorious has been amazing.

39 - Tell us a valuable life lesson you learned in 2007:
No more Mr. Niceguy.

40 - Quote a song lyric that sums up your year:
We are the Champions, my friend. And we'll keep on fighting, til' the end (Shocks 07!)
Friday, October 26th, 2007
---
2:13 pm
- Dusty! Please be sitting when you read this!
Has anyone else heard this rumor?

The Gravity Pub is closing it's doors for good this weekend.

Mary's folks? I've heard it from a couple folks and am a couple weeks behind on lj entries.

Confirm or deny?

Whoa.

I don't frequent it NEARLY as much as I used to, but it was definitely my haunt years back.

It is where I met Bob!

And where my love for Dusty bloomed and blossomed!

Anyone?

*EDIT*
Confirmed: http://tdb.cloun.com/
Thursday, October 25th, 2007
---
1:19 pm
- Recent life events...
...in no particular order.



Tuesday, September 18th, 2007
---
1:04 pm
- Not so mad skillz....
So, our web "design", though, I can barely call it "design", is straight-up "Web Design for Dummies" - the 1999 Edition, but it gets the information out to The People.

It still needs a few this and thats, but feel free to peruse it.

Grammar nazis: we haven't proofed it yet - lemme have it!

X
G&T

www.bobandlynngetmarried.com
Friday, September 14th, 2007
---
7:01 pm
- Grupo
Tonight at the EARL!

They've just spent a bunch of time opening for Prince in Europe and were tearing things UP!

http://www.grupofantasma.com/

Please come!
Friday, August 31st, 2007
---
10:10 am
- No sense of identity lately.
God, I am such a walking talking DISASTER!

As of right now, I have no drivers licence, an expired passport and can't find my social security card. I'm in such a constant state of discombobulation! And for the most part, you need one of the above to get a replacement of any of the above.

Though, in looking at the GA DMV information, I can get a replacement licence with a copy of my home owners insurance policy or my auto insurance policy and a copy of last year's tax returns. Thank the lord for the internets, that I can bring that stuff up online through TurboTax and GEICO, as I'd never be able to lay my hands on either at the house.

Exhausting to live this way.

Can one go to a hypnotist to be cured of chronic disorganization? I'd pay a king's ransom for it.


Thursday, August 30th, 2007
---
4:39 pm
- Pack my knvies and go.
Anyone watching Top Chef? It is for sure, my favorite television show. The only one in AGES that I've watched regularly.

I was SO, SO, really, very SAD about the most recent elimination - I finally caught it the other night.

Who on earth will win? Oh, wait, yeah, I think I know.
2:46 pm
- Silly goose...
My mum cracks me up.

Excerpt from email, RE: Wedding makeup:
Now....what should I do about makeup? Options:

(a) Do it myself
(b) have a "pro" do it
(c) call Barnum & Baily
(d) e-mail Revlon
(e) have dad do it
(f) wear a mask
(g) send for Tammy Fays left over eye lashes
(h) start looking for large sunglasses
(i) go to Sally's when they have a close-out/out of stock sale
(J) none of the above
(k) all of the above
(l) other All suggestions will be considered